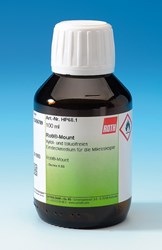 Roti®-Mount
Productnummer: RFV020
€
22
,
36
Mountant for microscopy, free from xylene and toluene.
Compatible with Roticlear® (Art. No. 64742-48-9) and n-Butyl acetate (Art. No. 123-86-4 optie 1- optie 2).
Dichtheid 0,88
bp 110-130 °C
mp17,8 °C • Melting range<-17 °C
ADR 3 II • WGK 1
UN-Nr. 1993
Synthetic mountant for producing durable specimens in histology and cytology, free from xylene and toluene. Not suitable for aqueous samples!
Storage:
For long‐term storage we recommend a storage temperature of 4 °C in the dark. For use the product should have room temperature to ensure an ideal consistence.