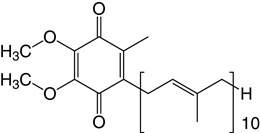 Coenzyme Q 10
Productnummer: 303-98-0
€
71
,
23
Synonyms : Ubiquinone 50
IUPAC name :
CAS : 303-98-0
Linear formula : C59H90O4
Molecular weight : 863,37 g/mol
Density :
Boiling point :
Melting point : 49-51 °C
Solubility
EG- number : 206-147-9
UN :
Ubiquinones represent a vital component in electron transport of the mitochondrial respiratory chain (hydrogen/electron and oxygen carriers).
They, therefore, are almost ubiquitously distributed through the species, with the only exclusion of gram positive bacteria and cyanobacteria.
Coenzyme Q functions as electron carrier between flavoproteins and
cytochrome molecules of the respiratory chain.
Well soluble in organic solvents (e. g. acetone, diethyl ether, chloroform)
and fats. Virtually insoluble in water.
| Optie | Pack Qty. | Packaging |
| --- | --- | --- |
| 1 | 25 mg | glass |