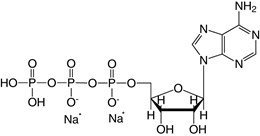 Adenosine-5-trifosfaat dinatrium zout
Productnummer: 987-65-5
€
25
,
86
Synonyms : ATP disodium salt
IUPAC name :
CAS : 987-65-5
Linear formula : C10H14N5Na2O13P3
Molecular weight : 551,10 g/mol
Density :
Boiling point :
Melting point :
Solubility :
EG- number : 213-579-1
UN :
≥98 %, for biochemistry
Coenzyme of kinases.
Discovered in 1929 by Karl Lohmann. Main molecular currency of energy in all cells and highly important regulator of energy providing processes. During hydrolysis of phospho‐anhydride bonds, energy of 30.5 kJ/mol (ADP) or 45.6 kJ/Mol (AMP), respectively, is released. Ligand of purinergic receptors and intercellular signalling molecule. Additionally, ATP is coenzyme of phosphate‐transferring kinases like proteine kinases A, proteine kinases C, calmodulin‐dependent kinases, and substrate of adenylate cyclases, which synthesize the second‐messenger molecule cAMP.
| Optie | Pack Qty. | Packaging |
| --- | --- | --- |
| 1 | 5 g | glass |
| 2 | 10 g | glass |
| 3 | 25 g | glass |
| 4 | 100 g | glass |